PLEASE CLICK ON ONE OF THE BELOW LINKS TO REGISTER
pre-cana & con-validation-OPTION ONE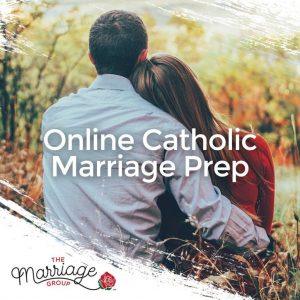 8 Hours to Complete: On-Demand delivery, so you can start and stop on your own schedule. Take as much time as you need!
This Online Pre-Cana Course Covers All "Must-Have Conversations" Outlined by the United States Conference of Catholic Bishops. Even if you have already had these conversations before, marriage preparation is the perfect time to revisit them.
THEOLOGY AND SPIRITUALITY OF MARRIAGE
BALANCING VALUES, CAREERS, AND PRACTICAL ISSUES
MONEY MATTERS: FINANCES AND STEWARDSHIP
HEALTHY SEXUALITY AND INTIMACY
COMMUNICATION SKILLS AND CONFLICT RESOLUTION
FAMILY OF ORIGIN
NATURAL FAMILY PLANNING (NFP LIFE)
pre-cana & con-validation-OPTION TWO
The course requires a minimum of 20 hours of active work. It is usually completed in 4 (four) to 6 (six) weeks. It must be completed within a maximum of three months. Instructors review each worksheet within a maximum of 3 business days for the regular course , within 24 business hours for the Urgent Care Program..
Count 1-2 hours to complete each worksheet plus an additional 1-2 hours to review each answer key.
ASsignments The Rite and Relationship Tools usually take longer.
Time will vary according to the discussions that the questions and answers trigger between the couple.
The work is done in two steps:
1) The couple access their first form and the first worksheet through the links they receive in their instruction email when they register. They fill them out and submit them.
2) Their instructor couple reviews their work and uploads their personal answer key on their profile. They must read it before moving to the next step. Their answer key contains the link to their next assignment.
At the end of the course, the couple's certificate of completion is uploaded onto their profile.
Teaching Method: The goal is to get the couples to think and discuss each topic together first, in order to find their own answers.
This heuristic process allows them to stay engaged in the subject being discussed and helps them own the knowledge that is being passed on. Their instructors will then complete the couple's answers with the teachings of the Church in the customized answer key.
When the future bride and groom live in two different locations: They must discuss and exchange their answers either by phone, skype, or email before they submit their common work on just one worksheet.
What is a convalidation?
"The Catholic Church believes that marriages entered into by non-Catholics in their particular church, or wherever they may take place, are valid. In the eyes of the Church, even two atheists or agnostics who are married civilly before a judge or magistrate enter into a valid marriage.
Convalidation Requirements: Catholics, however, are bound to observe a certain form of marriage ritual in order that their marriage be valid. Canon law—the law of the Church—requires that Catholics enter into marriage by free mutual consent that is witnessed in a church by an authorized bishop, priest, or deacon and at least two other witnesses. Marriages in which one or both parties are Catholic and which are not witnessed by an authorized bishop, priest, or deacon, or which do not receive proper permission to take place in another forum, are considered invalid in the eyes of the Church.
It may be that the Catholic who entered into marriage outside the Church did not realize that these requirements existed, but more often, it is because one or both of the spouses was not free to marry in the Catholic Church because of a previous marriage or because they were awaiting a Declaration of Nullity. Also, the Catholic partner(s) may not have been active in the Church and did not consider having a Catholic wedding.
The Church very much wants to assist these couples who later want to enter into valid Catholic marriage, and it offers them pastoral and spiritual support as they need it. When these couples are ready and free to do so, they celebrate what is called a convalidation, from the Latin word meaning "to firm up" or "to strengthen." This is sometimes wrongly referred to as the blessing of a marriage.
It is important to realize that a convalidation is not merely a renewal of promises made previously but is a new act of consent by each spouse.
This new act of consent is essential to marriage, and the words that the couple expresses are the outward sign of the gift of self that they exchange.
This convalidation of marriage may be celebrated within Mass or outside of Mass, again depending on the particular situation of the couple.
If both are Catholic, it is fitting that the convalidation be celebrated within Mass. If one spouse is not, it is preferable that it be celebrated outside of Mass." Source: Together For Life
Official Certificate. Immediate, No Waiting. Download, Print, Forward